Mathematics students fare well at ICM 2018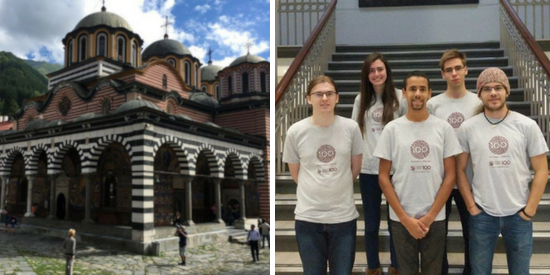 A group of Mathematics students from Stellenbosch University participated in the 25th annual International Mathematics Competition for university students that took place in Blagoevgrad, Bulgaria, from 22 to 28 July 2018.
More than 350 students from 43 countries competed in the Olympiad-style competition with examinations that took place over two days. Participants wrote two exams spanning five hours each for a total score of 100. The scores were then ranked from highest to lowest, with the top two-thirds awarded first, second or third prizes.
The Stellenbosch University team, consisting of third year BCom student Lourens Van Niekerk and three BScHons-students in Mathematics, Sarah Selkirk, René Spoerer, and Robin Visser, placed 54th out of a total of 70 teams. Visser and Spoerer won second and third prizes respectively, while Selkirk and Van Niekerk both received honourable mentions. The team was accompanied by team leader Liam Baker, a PhD student in Mathematics.
A highlight of the trip for the students was a visit to the famed Rila Monastery, a cultural, architectural, and religious landmark in Bulgaria. Nestled in the Rila Mountains, the monastery boasts magnificent views as well as insights into Bulgarian culture and history.
Upon returning from the trip, Selkirk and Professor Helmut Prodinger wrote a paper inspired by one of the questions in the competition. It is available online at https://arxiv.org/abs/1808.01907.​​