AWiM Virtual Seminar 2022
Leading up to a celebration of the international day of mathematics on 12 May 2022.
Program
12 April Angela Tabiri @ 15:00 CET – Decomposable Curves which are Quantum Homogeneous Spaces
19 April Cerene Rathilal @ 16:00 CET – S-Metrizability and Metrizable Compactifications of Frames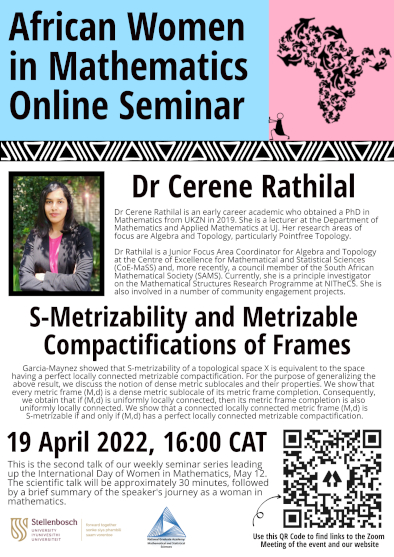 26 April Maria Vlasiou @ 16:00 CET – Addressing the gender imbalance in mathematics, practical steps that have been successful in the Netherlands
3 May Oghenetega Ighedo @ 16:00 CET – The evolution of lattices of z-ideals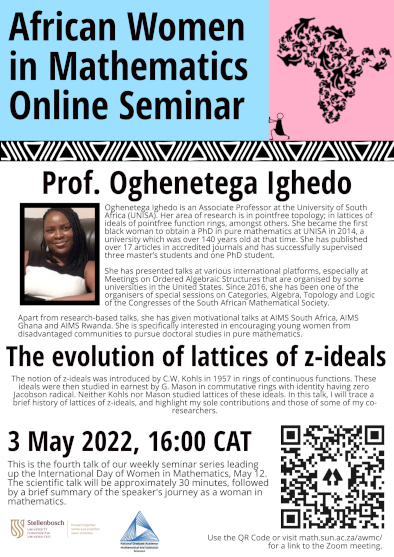 12 May – more details to follow soon.
In each of the talks the speaker will also share insights from their mathematical journey.
AWiM Symposium 12 May 2021
In celebration of the international day of mathematics.
Featuring snapshot plenary talks (15 minutes each), panel discussions relating to being a productive woman mathematician during the pandemic, and screening a movie about the life of Miryam Mirzakhani - the first woman to win a Fields Medal.
Please register here.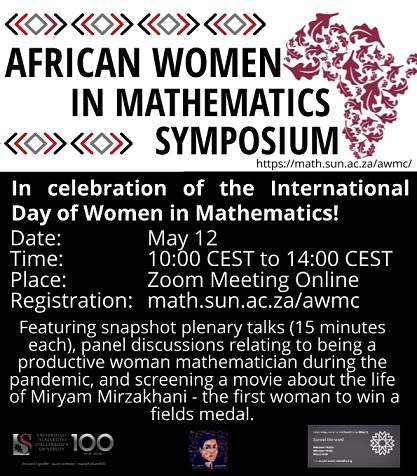 AWiM Virtual Seminars 2020
The AWiM Seminars are open to all nationalities and genders. Our aim is to showcase African women mathematicians as well as feature international speakers of interest. They provide a forum for women mathematicians across Africa to meet regularly, to be inspired, and to meet mathematicians from across the world.
Seventh Seminar 19 October 2020
Sarah Nakato is a promising young Ugandan mathematician working in commutative algebra. She completed her PhD in 2020 at Graz University of Technology in Austria and now has a Postdoctoral position there. Additionally, she gives back to the mathematics community by running Facebook groups for mathematics job announcements and stipends.
In this talk she gives an overview of her research on factorization theory in rings of integer-valued polynomials.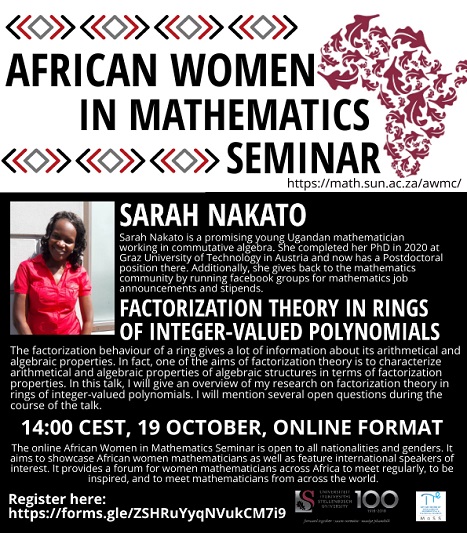 Sixth Seminar 12 October 2020
Professor Nalini Joshi, born in Myanmar, was the first woman to become a professor of mathematics at the University of Sydney, Australia. She develops mathematical methods to study solutions of integrable systems, which arise as universal models in physics. Professor Joshi was elected Vice-President of the International Mathematical Union in 2018. She is also a founder of Science in Australia Gender Equity, a program working to retain women in STEM.
Dr Karin-Therese Howell will conduct an interview with Professor Joshi about her career as a woman mathematician, as well as the initiatives that she has been involved in to encourage women mathematicians.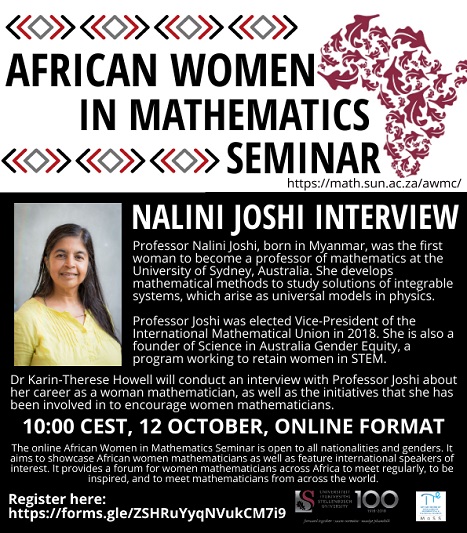 Fifth Seminar 5 October 2020
Federico Ardila is a Colombian combinatorialist. He received his Ph.D. from MIT, and is a professor at San Francisco State University. He is a Fellow of the American Mathematical Society, and a recipient of the US National Science Foundation CAREER Award. Federico leads various initiatives in the US and Colombia to help build an increasingly diverse, equitable, and human mathematical community. He has advised 50 thesis students, half of whom are women. Federico is also a DJ and percussionist, celebrating the musical dialogue between Latin America and Africa. He is very excited to initiate a mathematical dialogue as well. His talk will be about Geometry, Robots, and Society.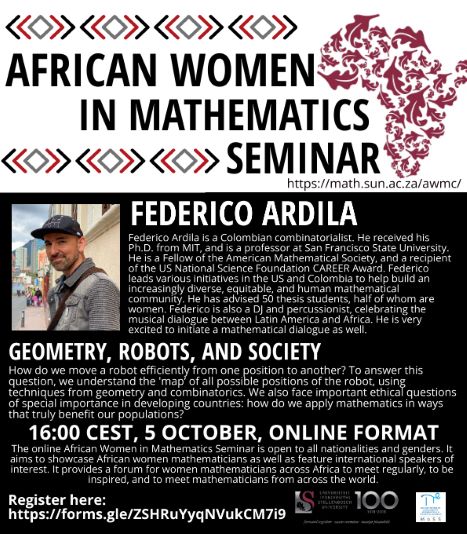 Fourth Seminar 21 September 2020
Marni Mishna is a professor of mathematics at Simon Fraser University near Vancouver, Canada. She is also currently the deputy director of the Pacific Institute for the Mathematical Sciences. She did her degrees at the University of Waterloo, Simon Fraser, and the University of Quebec in Montreal. Her book, Analytic Combinatorics: A Multidimensional Approach was published last year. Aside from her technical pursuits, she is interested the role of art and design in mathematical communication, and the question of how to diversify the collection of voices and narratives in pure mathematics. She will speak about Analytic Combinatorics.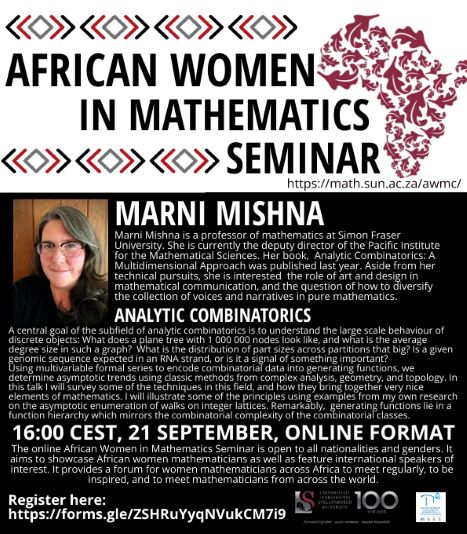 Third Seminar 14 September 2020
Carolina Araujo is a Brazilian mathematician working in the field of complex algebraic geometry. She obtained her Ph.D in mathematics from Princeton University in 2004, and has been a researcher at IMPA (Institute for Pure and Applied Mathematics, Rio de Janeiro, Brazil) since 2006. She has been appointed Simons Associate at ICTP from 2015 to 2020, and was an invited speaker at the ICM 2018 in Rio de Janeiro. She is vice-chair of the Committee for Women in Mathematics of the International Mathematical Union, and coordinated the organization of the first World Meeting for Women in Mathematics - (WM)² - in 2018. She will speak about Algebraic Geometry.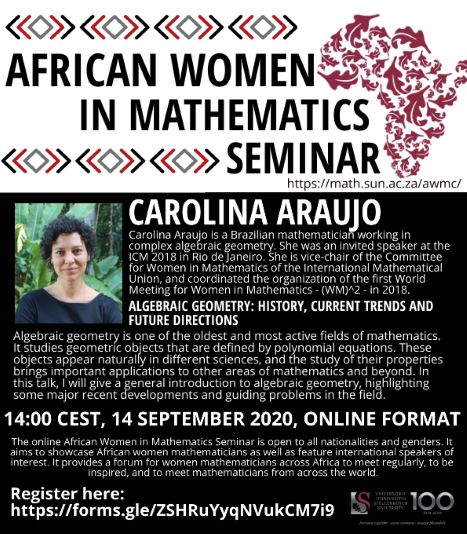 Second Seminar 25 August 2020
Aissa Wade, a professor from Penn State University in the USA, will speak to us about manifolds. Professor Wade is the first female Presdent of the Centre for the African Institute for Mathematical Sciences (AIMS)-NEI and AIMS Senegal. She has had visiting positions in Africa, America and Europe.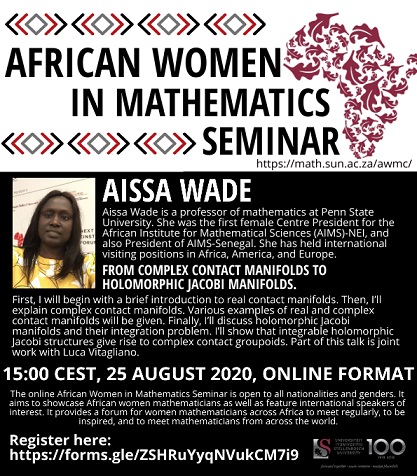 First Seminar 10 August 2020
We are very excited to open our seminar series by hosting Eugenia Cheng. She is an accomplished mathematician, pianist and writer and will be sharing key points from her new book about gender, A Mathematician's Manifesto for Rethinking Gender.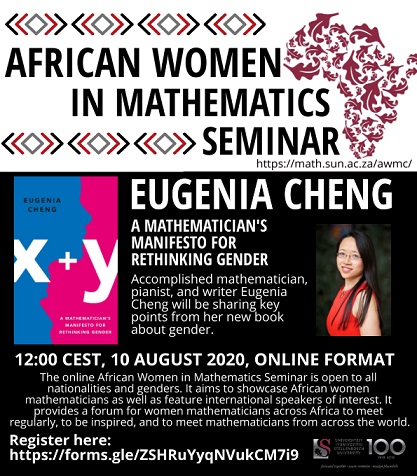 AWiM Conference 2020
It is with great regret that we must inform you that the AWiM 2020 conference scheduled for March 25-27, 2020 is hereby postponed until 2021. This follows an announcement from the Rector of Stellenbosch University that all conferences to be held on SU campuses must be cancelled until further notice as a precautionary measure in response to the COVID-19 pandemic.
Please invite all the women mathematicians you know!
The three-day conference aimed at African female mathematicians (both pure and applied) will be focused around the theme of Women in Mathematical Communities.
Activities will include:
scientific talks by women in various areas of mathematics,
open problem discussions,
an accredited short course in Matroid Theory course by Prof Nancy Neudauer (Pacific State University, USA) with a focus on how to apply it in your research,
plenary talks by outstanding women mathematicians,
a multi-disciplinary discussion on the Psychology of Abstract Mathematics,
a teaching & learning talk and activity for learners and teachers from the surrounding schools.
Plenary speakers:
Prof Kerstin Jordaan (UNISA South Africa)
Prof Kieka Mynhardt (University of Victoria, Canada)
Prof Eunice Mphako-Banda (WITS, South Africa)
Prof Ingrid Rewitzky (SU, South Africa)
Prof Lesley Ward (University of South Australia, Australia)
An accredited short course in Matroid Theory
The course will be presented by Prof Nancy Neudauer (Pacific State University, USA) with a focus on how to apply matroid theory in your research. Participants who complete the course will receive a certificate.
Why not consider attending both? For more information please download the poster or click here.
REGISTRATION IS OPEN
Registration fee: R 2000 per person Please note that there is a discount for delegates who attend both AWiM 2020 and SANUM 2020. The conference is limited to 70 participants. To register click here.
Important Dates:
28 February 2020 - Registration, abstract submission closes.
Templates
Here is a template for your abstract:
Please send you abstract in TeX format to Riana Roux rianaroux@sun.ac.za
Local Organising Committee:
| | | | | | | | |
| --- | --- | --- | --- | --- | --- | --- | --- |
| | | | | | | | |
| Dr Ronalda Benjamin | Dr Retha Heymann | Prof Karin-Therese Howell | Dr Sophie Marques | Dr Lesley Wessels | Dr Riana Roux | Ms Hosana Ranaivonamanana | Ms Sarah Jane Selkirk |
Location and accommodation:
The conference will take place at the Mathematics Division of Stellenbosch University.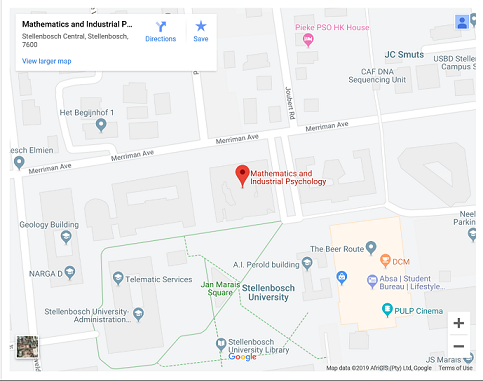 For some accommodation ideas please contact: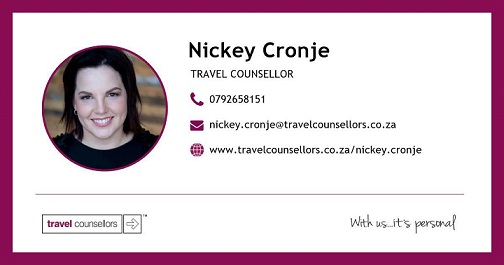 or
Jenna Moses
Manager: Visitor Services
Stellenbosch 360
Tel: + 27 (0)21 883 3584
Cell: +27 (0)73 226 9095
Email: jenna@stellenbosch360.co.za
There are also several options available on Air BnB.
For any further enquiries, please email awimsun@gmail.com