#AWiM Virtual Seminar
The AWiM Seminar is open to all nationalities and genders. It aims to showcase African women mathematicians as well as feature international speakers of interest. It provides a forum for women mathematicians across Africa to meet regularly, to be inspired, and to meet mathematicians from across the world.
For our first seminar we are very excited to host Eugenia Cheng. She is an accomplished mathematician, pianist and writer and will be sharing key points from her new book about gender, A Mathematician's Manifesto for Rethinking Gender.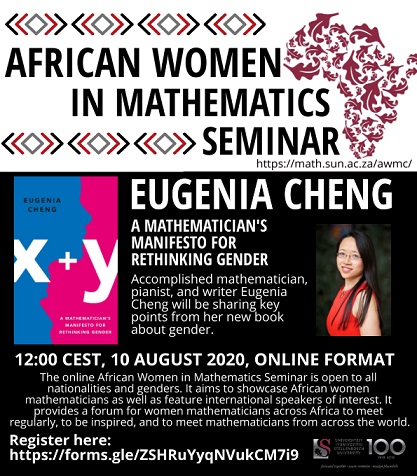 To register click here.
#AWiM Conference 2020
It is with great regret that we must inform you that the AWiM 2020 conference scheduled for March 25-27, 2020 is hereby postponed until 2021. This follows an announcement from the Rector of Stellenbosch University that all conferences to be held on SU campuses must be cancelled until further notice as a precautionary measure in response to the COVID-19 pandemic.
Please invite all the women mathematicians you know!
The three-day conference aimed at African female mathematicians (both pure and applied) will be focused around the theme of Women in Mathematical Communities.
Activities will include:
scientific talks by women in various areas of mathematics,
open problem discussions,
an accredited short course in Matroid Theory course by Prof Nancy Neudauer (Pacific State University, USA) with a focus on how to apply it in your research,
plenary talks by outstanding women mathematicians,
a multi-disciplinary discussion on the Psychology of Abstract Mathematics,
a teaching & learning talk and activity for learners and teachers from the surrounding schools.
Plenary speakers:
Prof Kerstin Jordaan (UNISA South Africa)
Prof Kieka Mynhardt (University of Victoria, Canada)
Prof Eunice Mphako-Banda (WITS, South Africa)
Prof Ingrid Rewitzky (SU, South Africa)
Prof Lesley Ward (University of South Australia, Australia)
An accredited short course in Matroid Theory
The course will be presented by Prof Nancy Neudauer (Pacific State University, USA) with a focus on how to apply matroid theory in your research. Participants who complete the course will receive a certificate.
Why not consider attending both? For more information please download the poster or click here.
REGISTRATION IS OPEN
Registration fee: R 2000 per person Please note that there is a discount for delegates who attend both AWiM 2020 and SANUM 2020. The conference is limited to 70 participants. To register click here.
Important Dates:
28 February 2020 - Registration, abstract submission closes.
Templates
Here is a template for your abstract:
Please send you abstract in TeX format to Riana Roux rianaroux@sun.ac.za
Local Organising Committee:
| | | | | | | |
| --- | --- | --- | --- | --- | --- | --- |
| | | | | | | |
| Dr Ronalda Benjamin | Dr Retha Heymann | Dr Karin-Therese Howell | Dr Sophie Marques | Ms Lesley Wessels | Dr Riana Roux | Ms Hosana Ranaivonamanana |
Location and accommodation:
The conference will take place at the Mathematics Division of Stellenbosch University.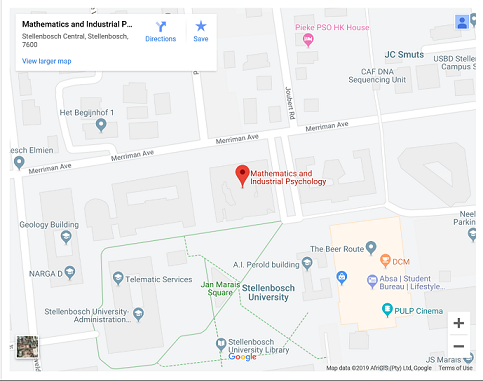 For some accommodation ideas please contact: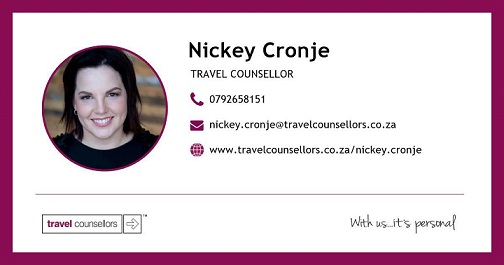 or
Jenna Moses
Manager: Visitor Services
Stellenbosch 360
Tel: + 27 (0)21 883 3584
Cell: +27 (0)73 226 9095
Email: jenna@stellenbosch360.co.za
There are also several options available on Air BnB.
For any further enquiries, please email awimsun@gmail.com